At our office, Drs. Richard J. Pasiewicz and Ryan Teahen are committed to utilizing advanced technology to always provide you with the highest level of dental care. Our endodontists may use cone beam computed tomography, also known as a CBCT, to more closely examine your teeth and the bone that surrounds them. This advanced imaging system allows us to quickly diagnose endodontic problems and plan effective treatments.
We are proud to offer the newest in 3D imaging technology at Contemporary Endodontics. CBCT technology, also known as cone beam imaging, is a system that provides our endodontists a three-dimensional image of your teeth and the bone that surrounds them. Our CBCT unit offers features that help our doctors achieve a new level of diagnostic excellence. The unit utilizes live video, artificial intelligence powered positioning, and Tomosharp technology to reconstruct the most crystal clear images.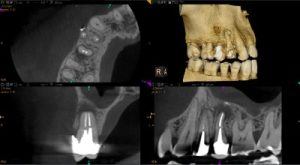 We may use CBCT technology to:
Identify and analyze dental and facial trauma
Clearly visualize complex canals or unusual teeth structure
Examine jaw and teeth for infection
Analyze areas of tooth decay or potential dental problems
Diagnose endodontic problems and plan root canal therapy
View tooth anatomy not typically captured by traditional X-rays
The CS imaging software that our CBCT unit uses allows our endodontists to quickly and easily evaluate and diagnose dental conditions, as well as create detailed treatment plans, with greater accuracy than traditional X-rays. This is in part because the technology provides a more comprehensive visual of the whole mouth, teeth, jaw and airway. You can learn more about how our team uses cone beam 3D imaging to ensure our patients receive the best possible care by calling or visiting our team today.